Hello, Visionaries!
In Short: Today I was watching (TRX) TRON Price as its founder is trying to hipe the coin again on his twitter page. Recent speculations are circulating the internet of a few high-profile partnerships that might take place in the following period with this coin.
January 2018 and the market capitalization was up to 10 Billion $. "
TRON
(
TRX
) Price Chart, Market Cap, Index and News". Investing.com.  Bizfile-Tron-Foundation-2017
TRON Price (TRX)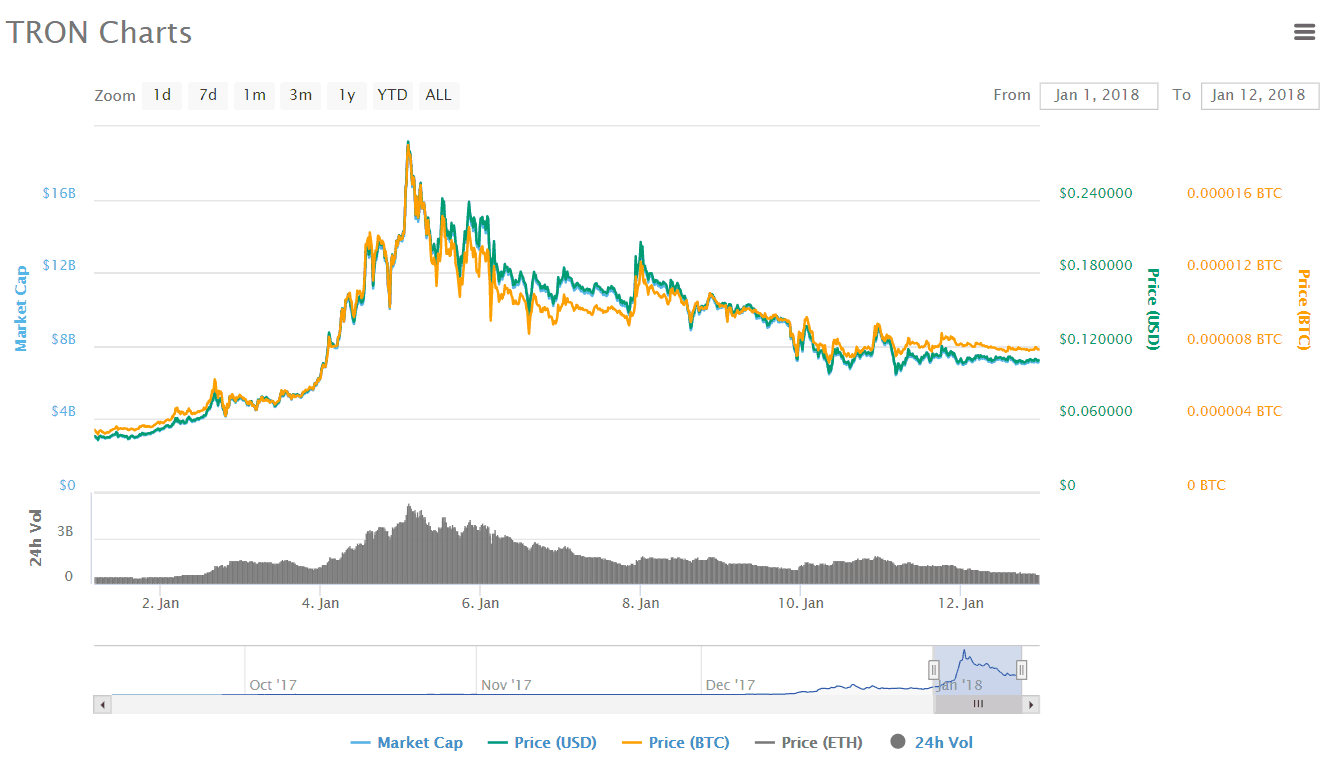 I am very curious about what will happen to the price of this coin over the next week or two as the current speculation could send this coin sky-rocketing.
The partnership speculation with Alibaba and some screenshots were circulating on Twitter; Now, if that would happen, many experts predict that the coin will go back over its time-high of $0.30 and could have a real shot of hitting the 1$ mark.
I am going to go over a few Tron Value predictions that I see viable and entirely possible. Also, the speculation is very intriguing to check further out as we will see next.
Right now we can see Tron Price sitting at just around 10 cents, which is a pretty good basement for this coin. The bear trend is already happening for about seven days now which makes me feel like this is going to be very very stable in the following weeks. Even so, we are not going to see it go any lower than 9 cents in my opinion. Now, it has been well over 24 hours with the price staying solid at 10-11 cents.
Last week Tron was just around 30 cents which represent an al-time-high till this date. Since then, it has only been a slow decline which found it is stability at about 10 cents. Now, I consider that this coin showed it is potential already,  and it might take just a little bit of news hipe for this coin to start growing again. Moreover, now, of course, there's nobody better to hipe it then their CEO, Justin Sun.
What should happen for the Tron Price to hit a dollar? Well, since now when the price is at 10 cents and the market cap is at 7 billion, that means that we should see the 1$ price when the market would be at around 65 to 70 billion $. Moreover, this does not seem impossible at all considering the technology that Tron has, the amount of marketing they do, how well they roll out partnerships and their community. It all points out that many people are going to get their hands on this token pretty soon. The Tron founder is just not saying anything about the presumed partnership with Alibaba.
First, let us see a few partnerships they have already made.
Partnering with the "Netflix" of China, Baofeng, which seems to have around 200+ million users. This partnership was the announcement that brought the coin to its 30 cents glory;
Peiwo – China's Snapchat – roughly 10 million users;
Gifto – virtual gifts – around 20 million users;
oBike – rent a bike – approximately 10 million users;
Game – online gaming platform.
Now, why are people saying that Tron is going to partner up with Alibaba? It is because a picture of the alleged new Tron office location is circulating on twitter which is just a block away to that of Alibaba. On top of this, Tron just announced on their twitter account that another Senior Developer joined their team from Alibaba.

Another tweet is creating expectations about a space innovation company that he also said will be announced soon.
Also, Tron TRX was even mentioned in an Article from Crypto Recorder stating that it
"enjoys an unwavering support from top Chinese developers as well as notable members of the Chinese business community which gives it the ability to expand and develop."
Don't forget to follow me on my social media pages to stay up-to-date about my latest crypto news and investment opportunities. Also, please share this article if you find any value in it.
Now, leave in the comments below an answer to whom do you think Tron could partner up with in the future to up their game and break the $1 barrier for its crypto token? Also, we can start an excellent conversation on this topic.